Passive online income is what people want. Unfortunately, there are plenty of SCAMS out there, which are trying to rip you off.
There is a huge chance you have already spent your hard-earned money on such SCAM schemes. I feel sorry for you. Sad enough, in most cases, you won't get any cent back.
Great enough, I am regularly creating reviews of products or programs guarantying real passive online income. In order to help you decide if to invest or not.
In today.s post I am going to talk about My Online Start-Up.
Introduction
---
Name: My Online Start-Up
Funder: Chuck Nguyen
URL: https://myonlinestartup.com/
Training and support: 2.1 out of 5
Web hosting and web support: 2.3 out of 5
Price: Free( Starter members) $147 one time fee as a "partner", couple of upsells ranging from $30 to 1,997$
Ranking together: 2.2 out of 5
Features
---
My Online Start-Up is promising their members to help you be earning online, while you are a complete beginner.
Video:
In the video above you can see the "imagination" about his business model, the creator of My Online Start-Up has.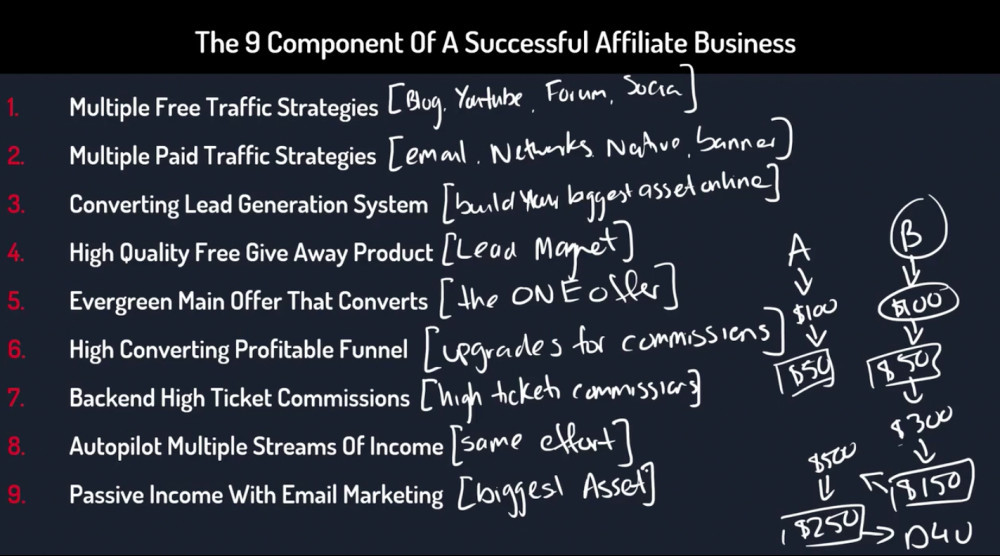 On the picture above, you can see the " 9 Components of Successful Affiliate Business according to Chuck
Those are to be fair useful, however, without deeper understanding( you can bet in FREE membership you don't get deeper) you won't know how to use it efficiently.
For who is this program
---
In case you are new to Affiliate Marketing, you can get some basic overview of this platform.
You will be able to see how Affiliate Marketing is working, including the 9 Components of a Successful Affiliate Business with information about traffic, email marketing, and the strategy you should consider if you want to become successful in this field.
In case you are newbie, you will find the information valuable, if you are some months in the business, you might find this is a bit shallow.
Program Breakdown
---
In case you are like me, you would like to see the program overview before purchasing it. Sort of pluses or minuses, so you know what to expect, once you'd join.
So, here we are…
PROS:
FREE Course– That's always nice if you can get some kind of proof, of the product to help you decide if it is valuable or not. The content in this free program is made out of videos, where you get some valuable content e.g. about Marketing Strategies using your blog or YouTube, Traffic, or Ads.
Easy to Follow– The layout of the website or the free course is easy-to-follow and well-designed.( Included note sheet for instance, what is time saver)
Money Guarantee– You have 30 days to decide if you are happy with the program or not
CONS:
Support– Unlike Wealthy Affiliate where you have 24/7 support from Community, at My Online Start-Up, you have access for 100 days to a success coach. After this period expires, you have access via other members, "just" through the comments section under each training session.
Features of FREE membership– Being a free member, you have very limited options to be actually earning by using the program. To be honest, I don't even see the point of being a free member of this platform whatsoever.
Upgrades=Upsells– The worst sign of every business opportunity. I don't know how about you, but the truth is that if some offer has HIDDEN upsells, I am giving my hands away. As you will process in your training, you'll see that to run a successful online business you'd need to have some extra tools hosted on different 3rd parties, those aren't for free. To name some:-ClickFunnels( Sales Funnel Builder)- $97/month (the cheapest membership)-Leads Leap(Traffic exchange site- $27/month-Wealthy Affiliate-$49/monthA few weeks back there were also additional upgrades to initial $147 one, precisely one for $497 and the other for $1,997.( By the way, if you check the number 6 in his "9 Components", you see that he is recommending the upgrades to be "useful" or even essential. Please, don't take that seriously. You don't have to have hidden upgrades to be successful)

In the end, it's not about the amount, it is about the principle. How could you trust someone who is hiding something from you? Some hidden costs for instance?

At least it is a matter of distrust and dishonesty.

The Founder– The person behind this product has failed a couple of times online. How do you know this one would be different? To me, it is just another proof of weird and suspicious passive online income opportunities. The latest was Earn Easy Commissions. This was in the best MLM scheme and in the worst real "pyramid" scheme, where just people on top are earning money. While the entry costs were on zero-dollar, later on, you were strongly "encouraged" to purchase the upgrades ultimately to $1000 VIP membership. Any similarities with My Online Start-Up??
Is My Online Start-Up legit or is it a SCAM?
---
Short answer NO!
The more precise answer, it is a highly suspicious scheme, close to the *Ponzi scheme.
*Ponzi scheme( Federal Trade Commission explanation)- A Ponzi scheme is closely related to a pyramid because it revolves around continuous recruiting, but in a Ponzi scheme the promoter generally has no product to sell and pays no commission to investors who recruit new "members." Instead, the promoter collects payments from a stream of people, promising them all the same high rate of return on a short-term investment. In the typical Ponzi scheme, there is no real investment opportunity, and the promoter just uses the money from new recruits to pay obligations owed to longer-standing members of the program. In English, there is an expression that nicely summarizes this scheme: It's called "stealing from Peter to pay Paul." In fact, some law enforcement officers call Ponzi schemes "Peter-Paul" scams. Many of you may be familiar with Ponzi schemes reported in the international financial news. For example, the MMM fund in Russia, which issued investors shares of stock and suddenly collapsed in 1994, was characterized as a Ponzi scheme.
The hidden costs, in the beginning, is something, that I personally hate.
Talking about profitable and promising opportunities, I don't like unexpected "surprises" later on. I prefer clear, honest, and full insight about, how much I am going to pay, right?
That's transparent and fair. Unlike Chuck is mentioning in his welcome video, as well as on his website understatement "our mission" where he expresses as help to others as his highest purpose.
Now, if that is the truth, why are they hidden costs?
Why did his recent business fail? ( Earn Easy Commission)
Could you be 100% sure there won't be any additional upsells later on?
To me, there are too many red flags over here.
Honestly, I don't want to bully Chuck Nguyen, but the truth about his My Online Start-Up is, that I won't recommend THIS PROGRAM.
==> Click here and discover the number 1 program available to help you create your passive income online
In the end, I would like to share with you my STORY, how and why I started to search for options to achieve passive online income, as I believe this is the best way to start your online business.
I hope I could help you with my review, to get you a more clear idea of what this program is about.
In case you have any questions, or comments, don't' hesitate to leave them below, I will more than happy to help you out.
Julius